When hiking meets photography…
Exploring and hiking in the Wildlife Reserve of Matane and the Du Bic National Park (Canada – Quebec). Both are part of the Sépaq network.
End of June 2011.
here was many mosquitos deep in the forest and close to the water, in other words… Everywhere!
My flynet was really useful, allowing me to take more time for shooting on a static position.
A relatively heavy gear with me: Cameras, food, drink, warm clothes (to climb the Mont Blanc) as there was still some snow on top, camping equipment.
Tip: As I wasn't able to carry two big backpacks (front and back), I used the front strap of my hiking one to hang my heaviest camera and the zoom lens (Canon EOS 7D and Sigma 50-500mm). I was able to climb more peacefully and took photos quickly.
See pictures 1 and 2.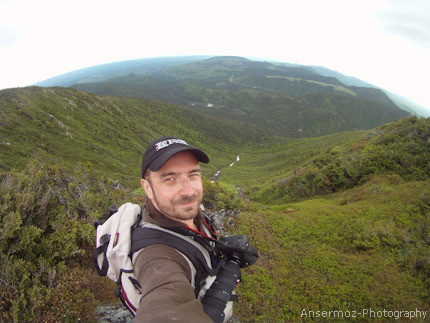 Equipment used:
– Canon EOS 7D and Canon EOS 400D cameras
– Sigma 50-500mm, Canon 70-200mm, Canon 18-55mm lenses
– GoPro HD Hero 1 video camera