Dedicating this article about sport photography, to my beach volleyball player friends.
The photos were taken in 2014 during The 25th edition of the CEV Beach Volleyball Satellite Lausanne, and the FIVB Beach Volley World Tour in Gstaad, in Switzerland.
As I practice beach volleyball, I saw an opportunity to try some sport photography during these two events.
I wasn't an official photographer, so I took shots from anywhere I could access.
Photographs were taken with Canon camera EOS 7D and Canon lenses 70-200mm F4, and a Sigma 10-20mm wide angle.
I think I will try to do more action shots, but I thought about sharing some good tips if you want to give it a try too.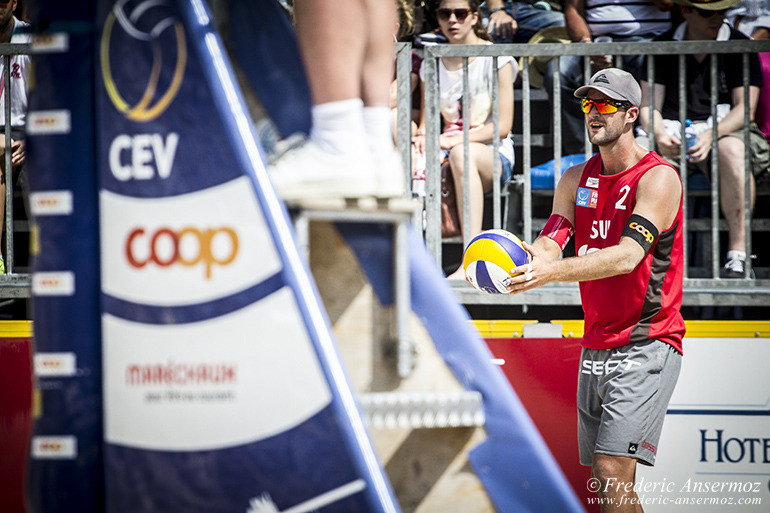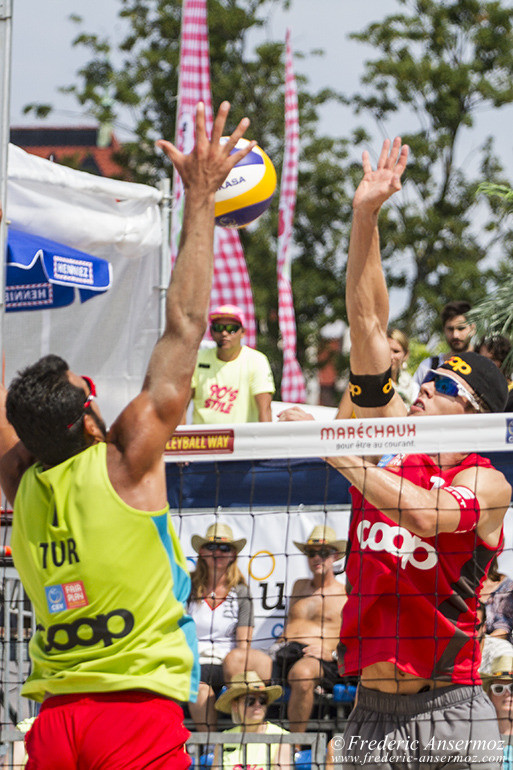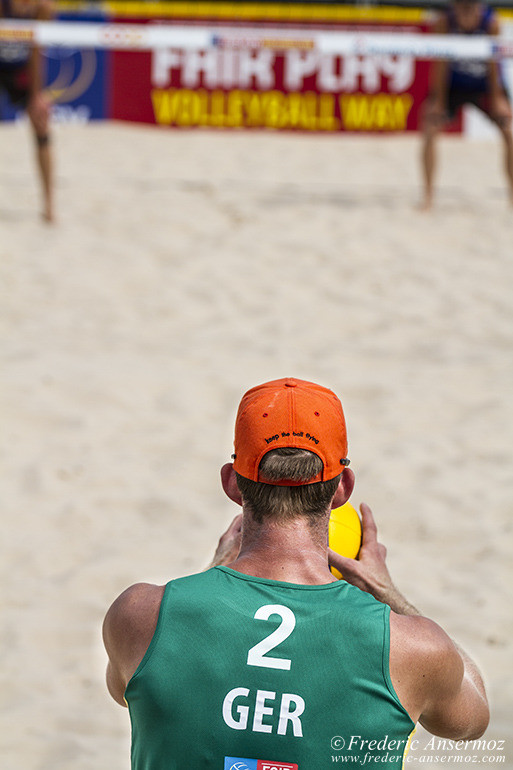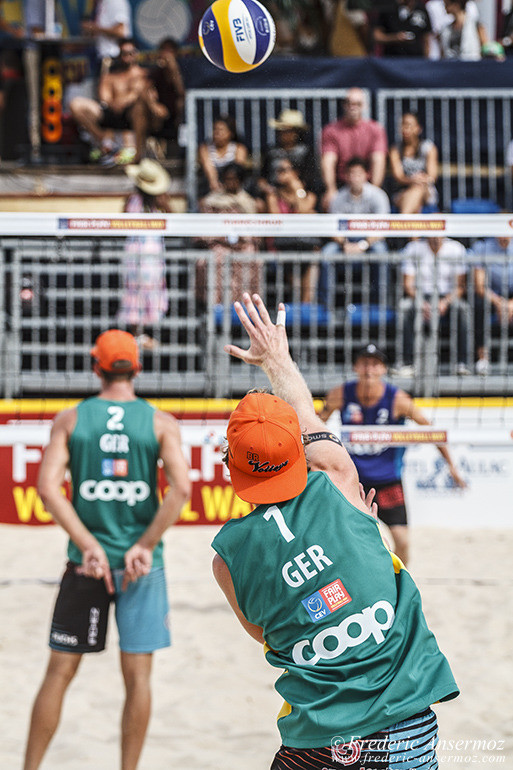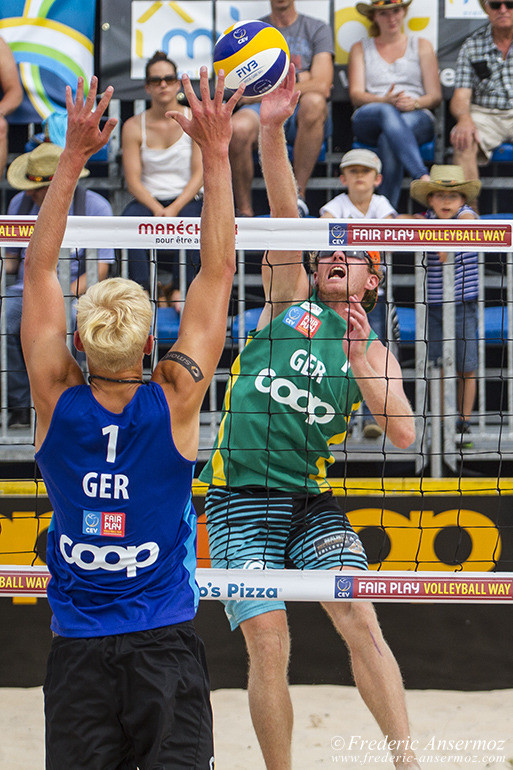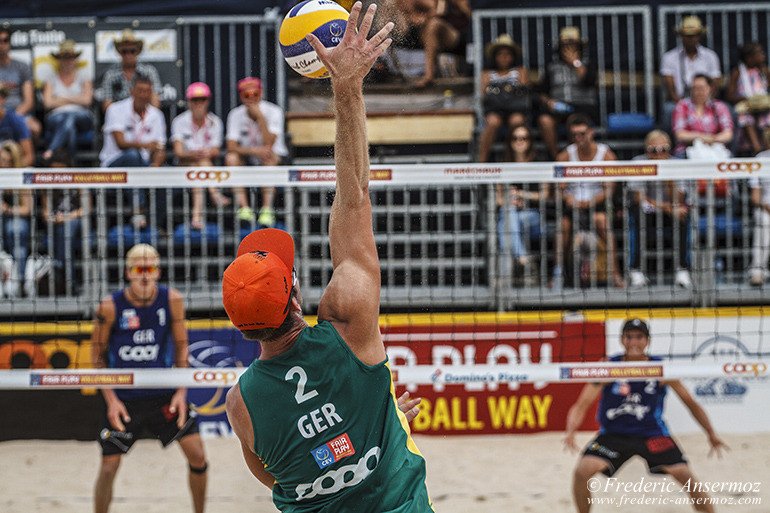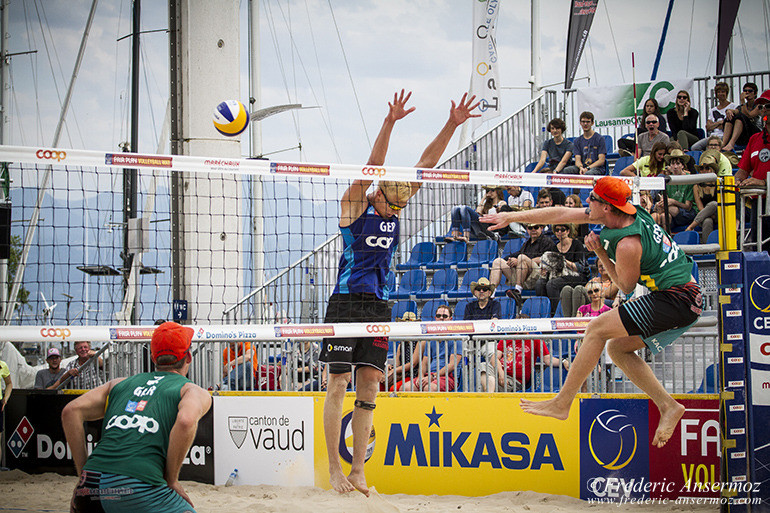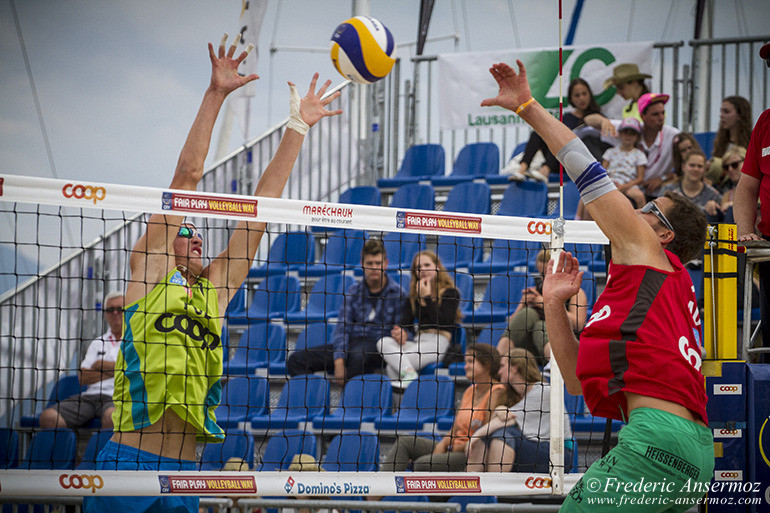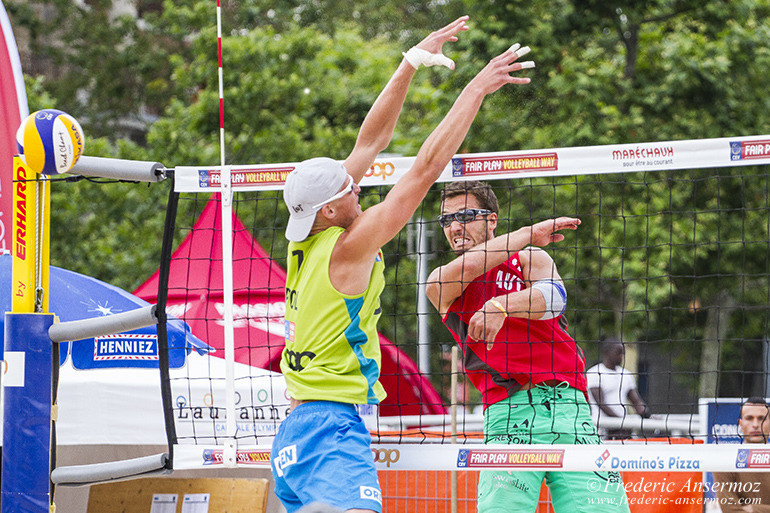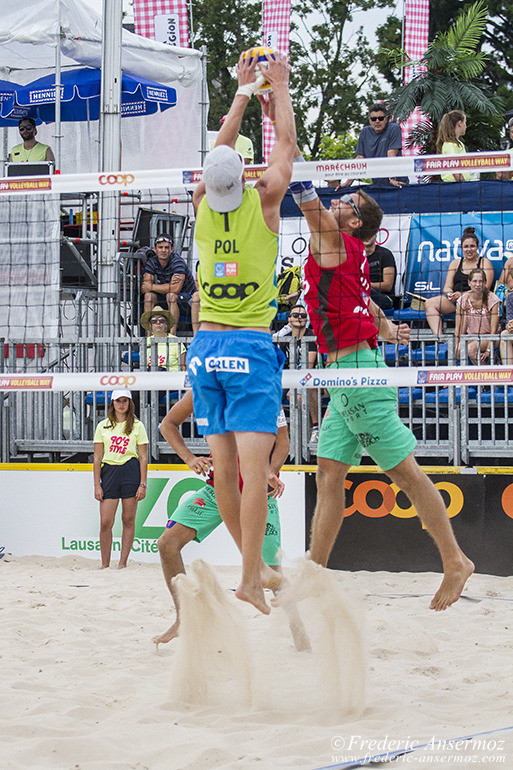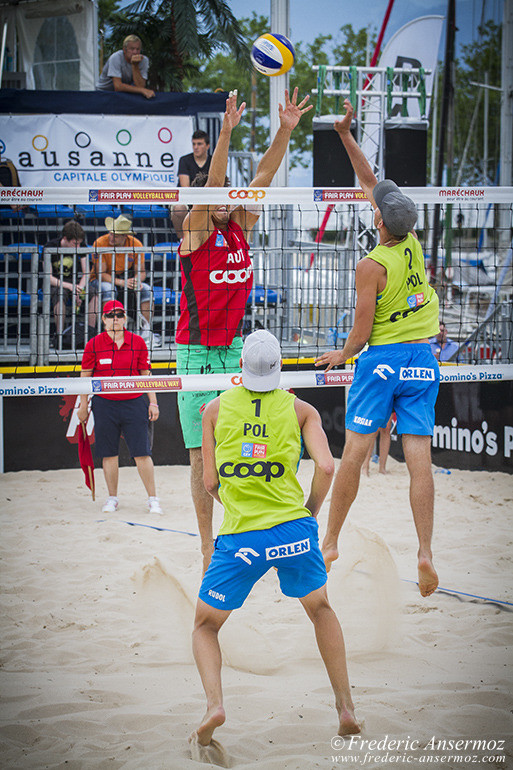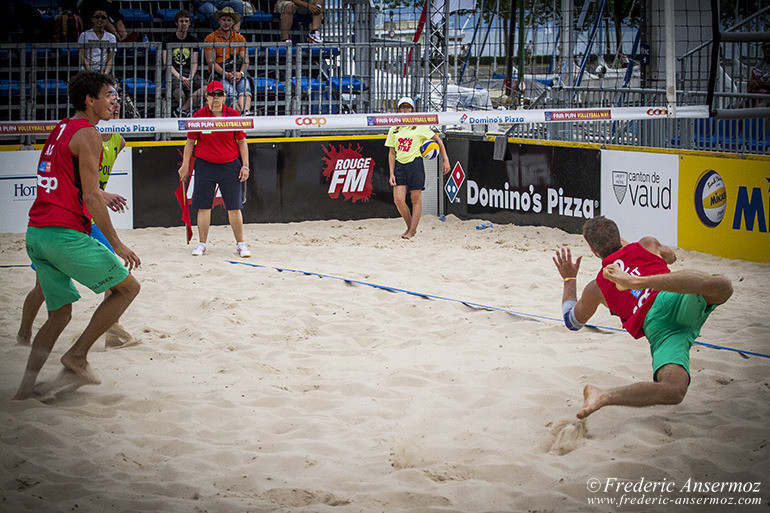 It's important to know the sport you are going to photograph. This way, you can anticipate the action, and know where to place yourself to realize better sport photography.
Even if I practice beach volleyball, I didn't hesitate to try different spots, angles and lenses, to see the results and try something new.
It`s good to use a fast shutter speed, to freeze the action, but slower speed can allow you to do some artistic shots or gives the illusion of movement. It depends on what you want to do.
Burst/Continuous mode, taking several pictures per second, can become very handy, though, I'm not a big fan of shooting hundreds of photos for nothing.
Sport knowledge and anticipation, can help you to reduce the amount of unusable shots.
If you want to practice beach volleyball photography, your safeties are the player serving and the setters since they are fairly easy to capture. Then, you can work on hitters and blockers.
Focus on the game, the action. Don't review your shots while the action is still happening, or you will miss some shots.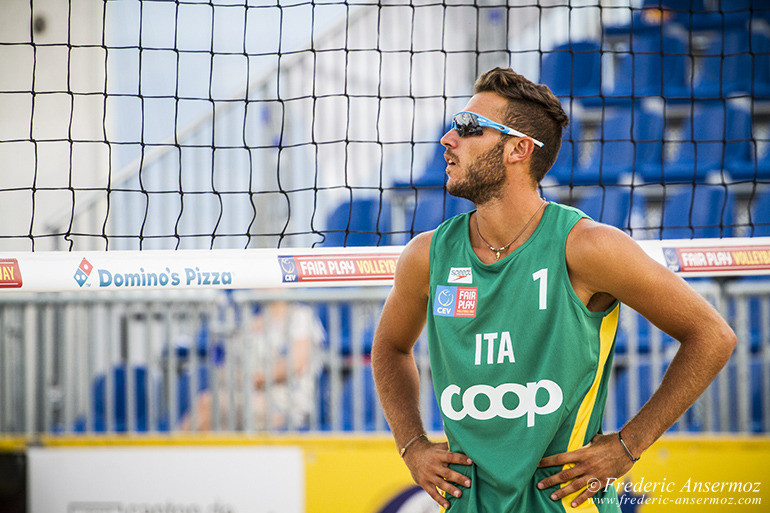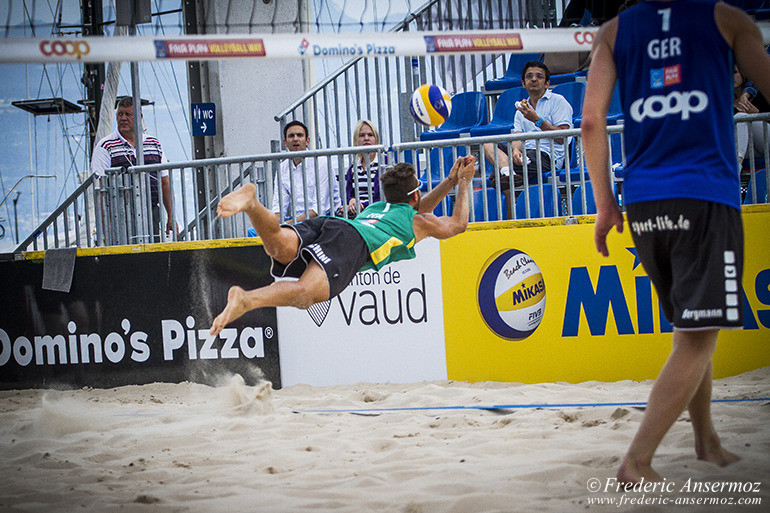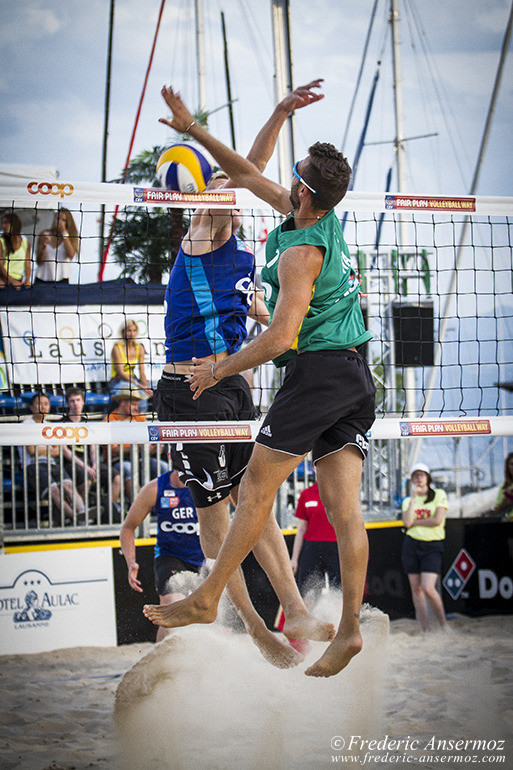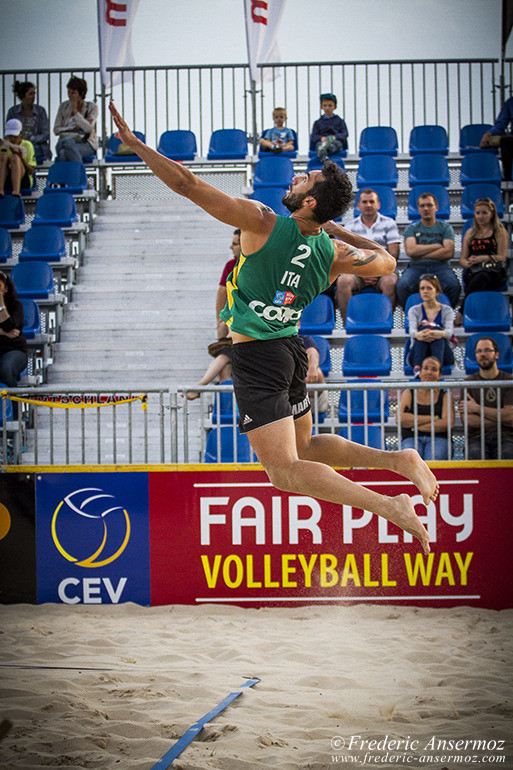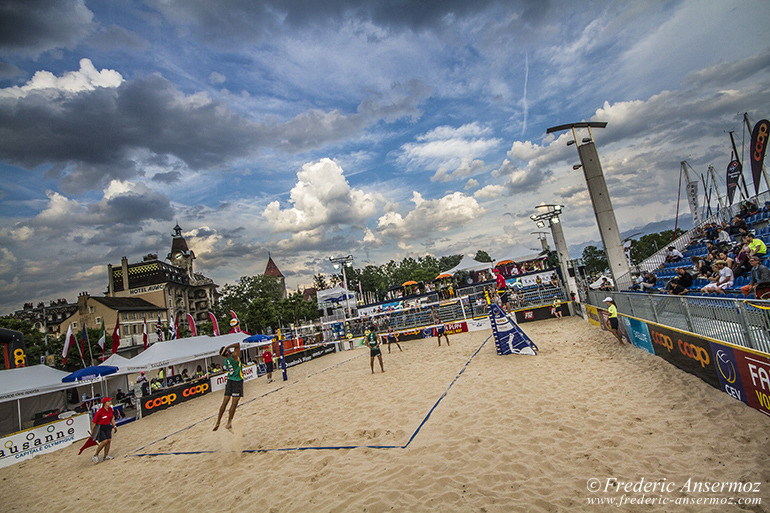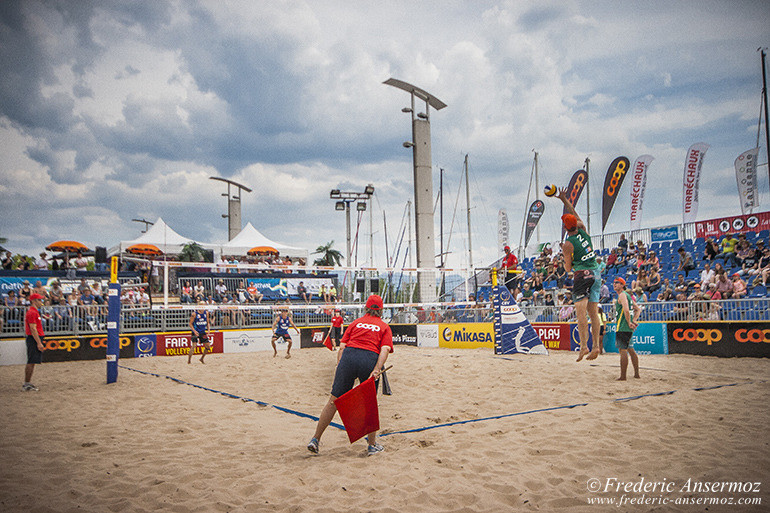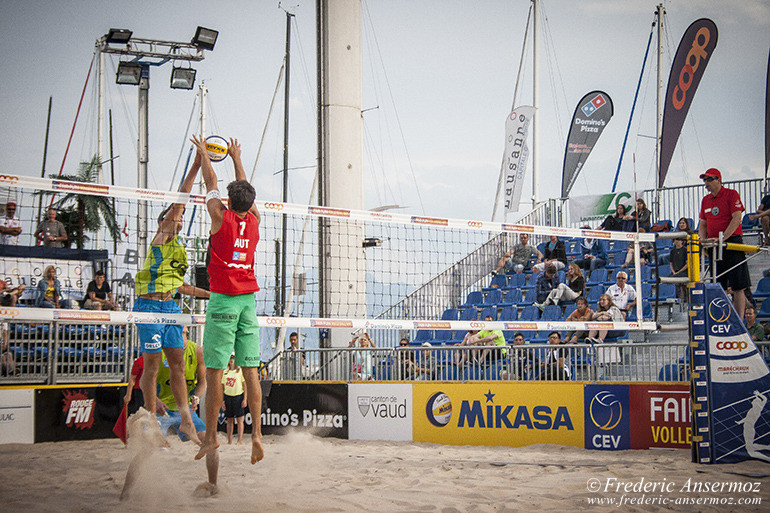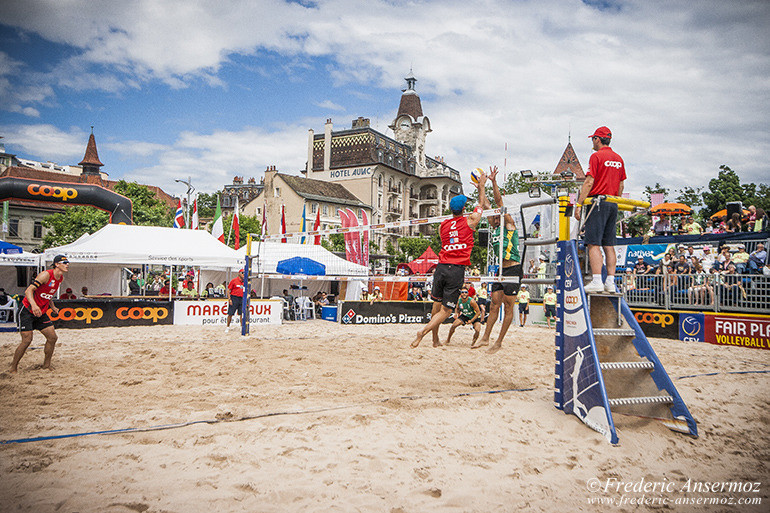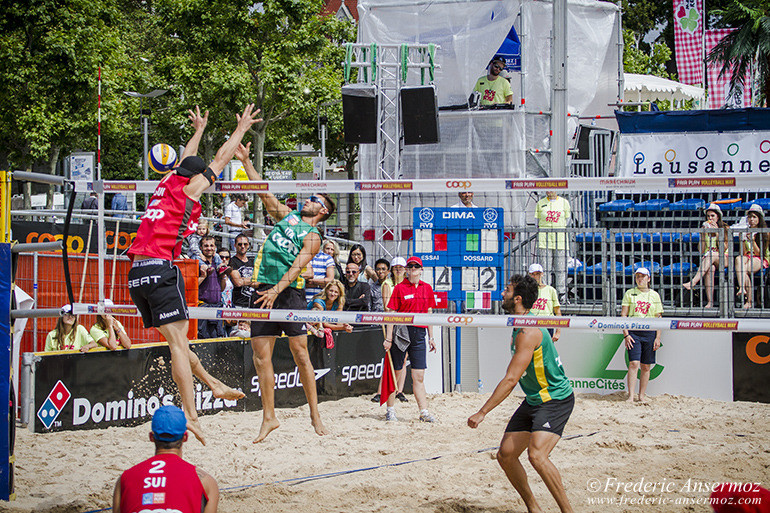 Bright lenses (F2.8, F4), allow you to have a shallow depth of field, and isolate the subject. Especially if the background is far behind.
Include the face in your shot, but also the ball.
If you are shooting indoor, you will have to increase your ISO. Check your image quality and how your camera reacts when you do this. Depending on your camera model, you will have more or less noise in your image.
Indoor or outdoor sport photography, with beach volleyball for example, keep your lens hood. It will help you to avoid lens flare from the sun or lights.
Flashes or speed-lights can blind players or disturb them, so be careful if you are thinking about using them.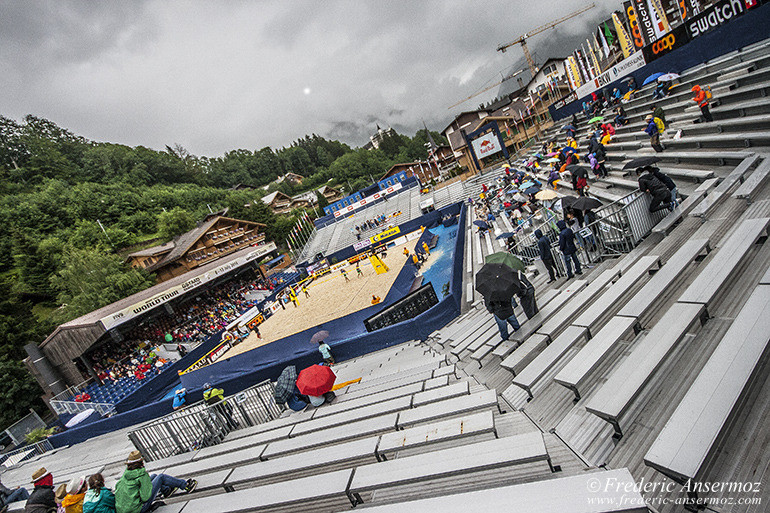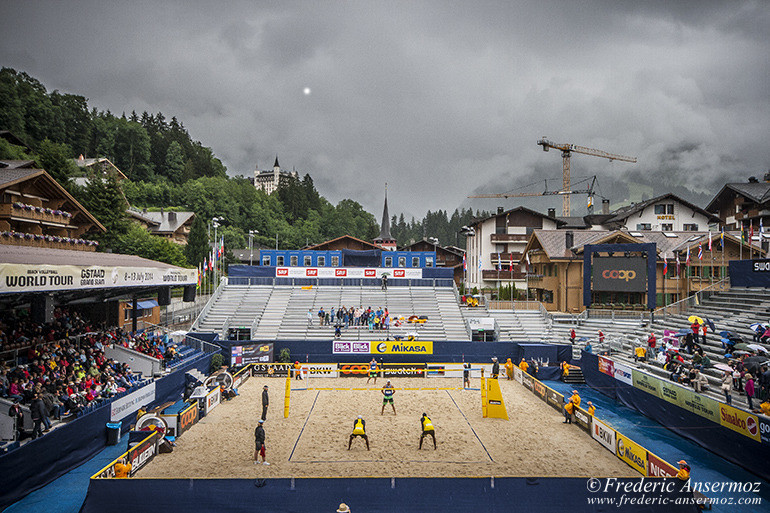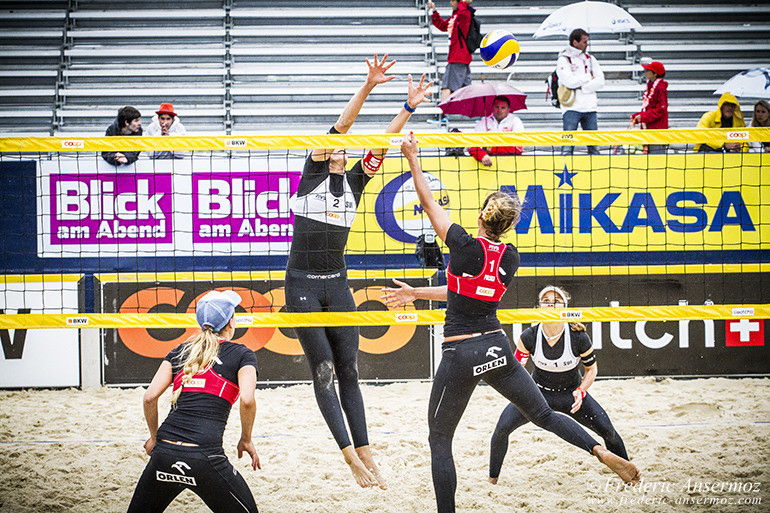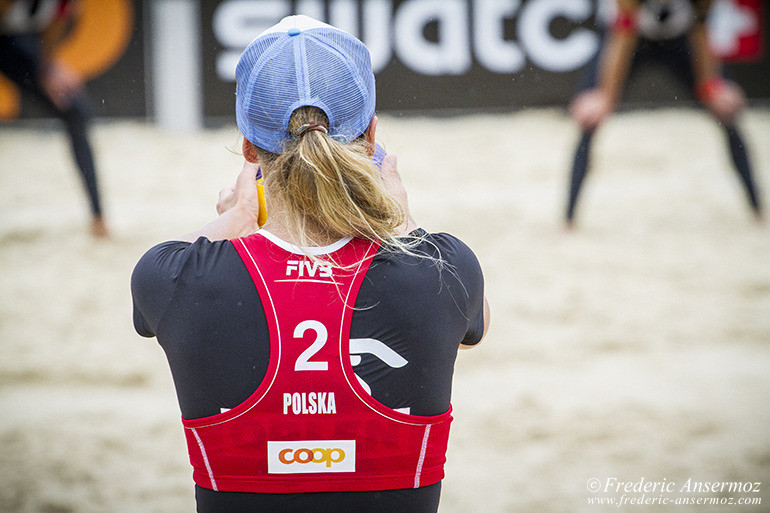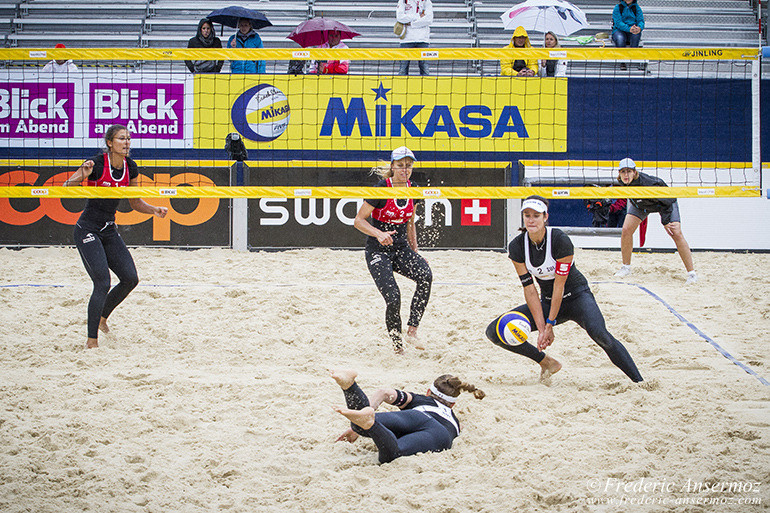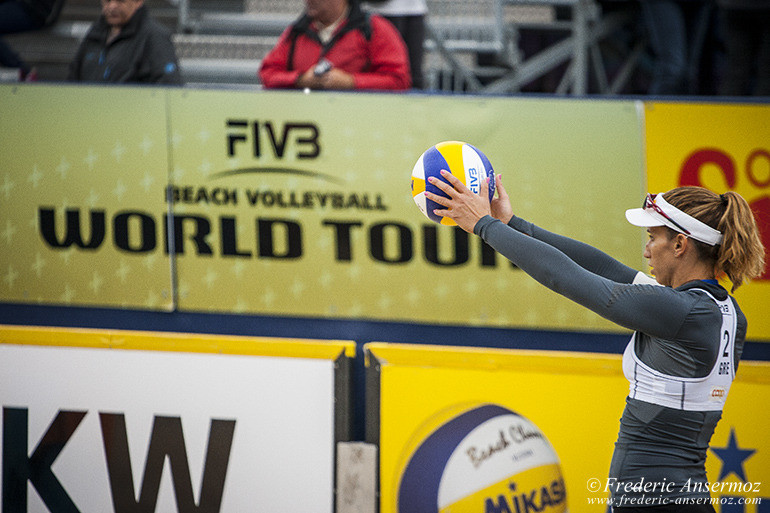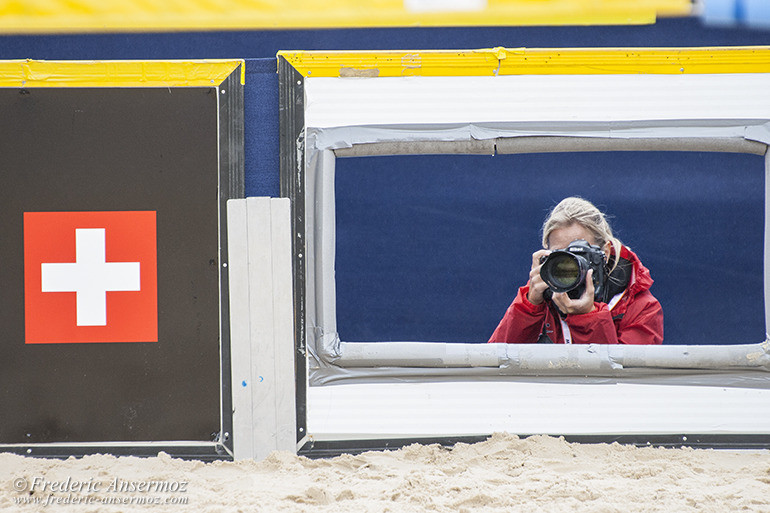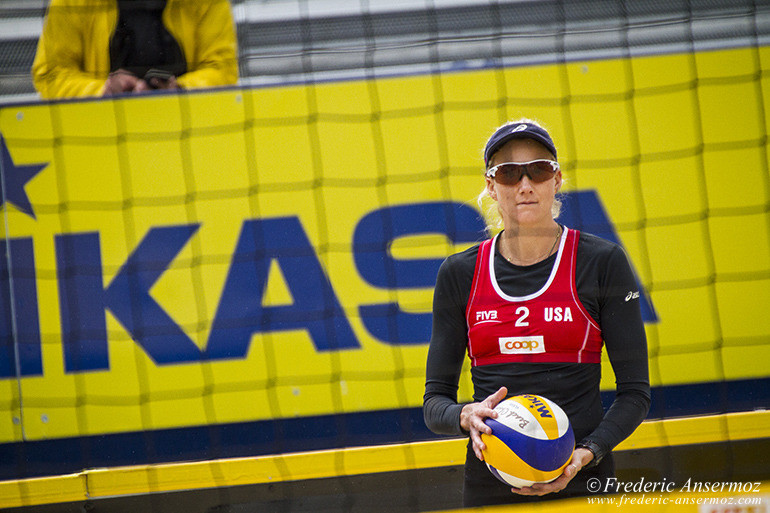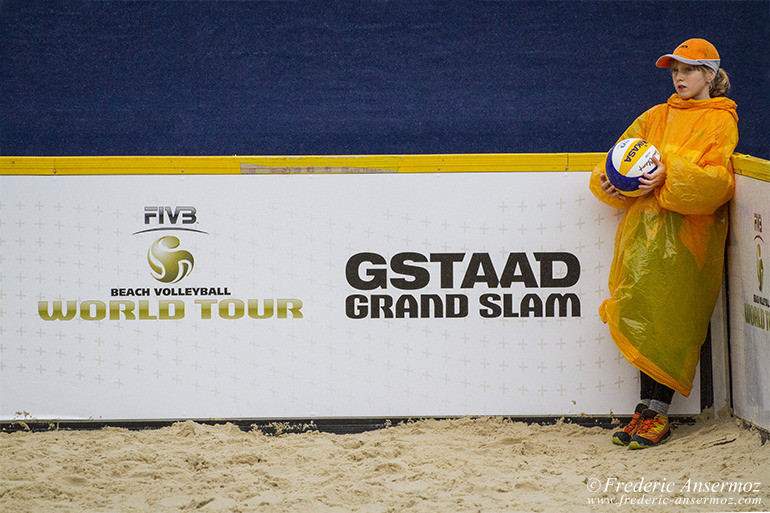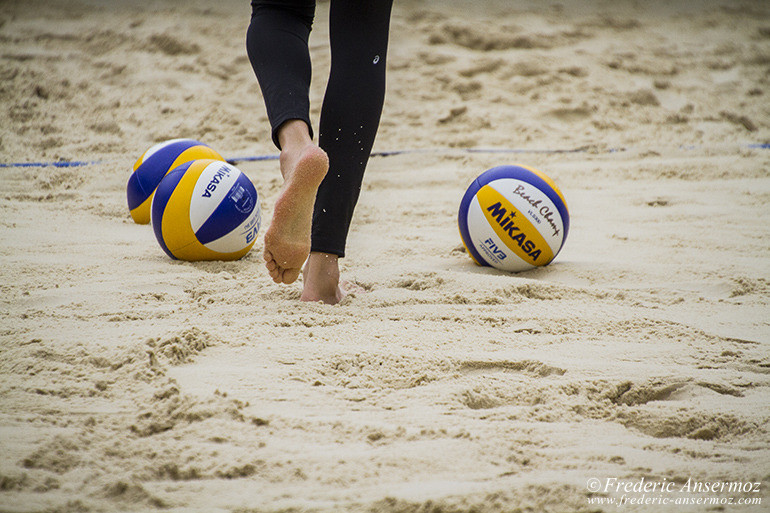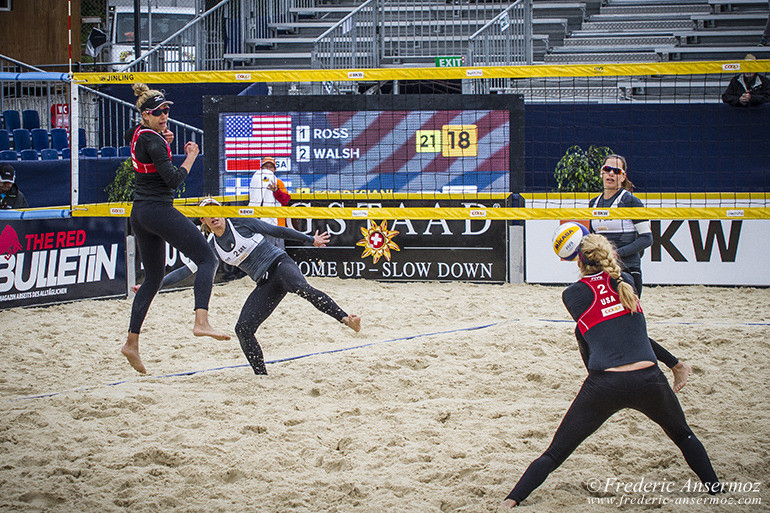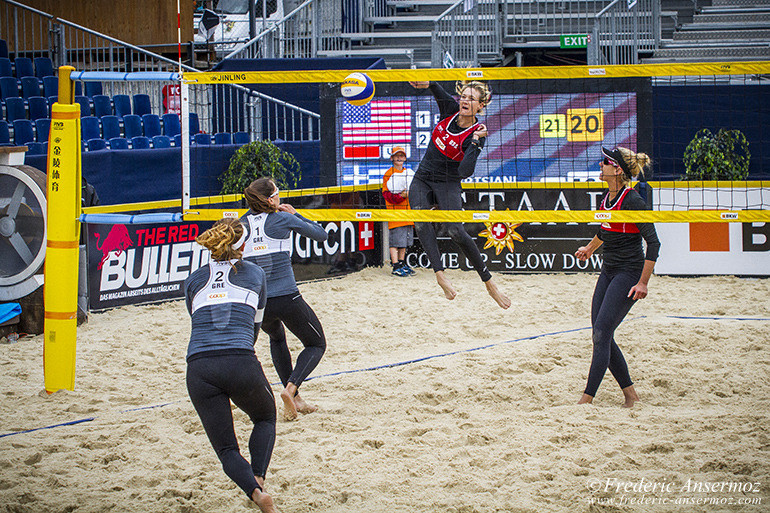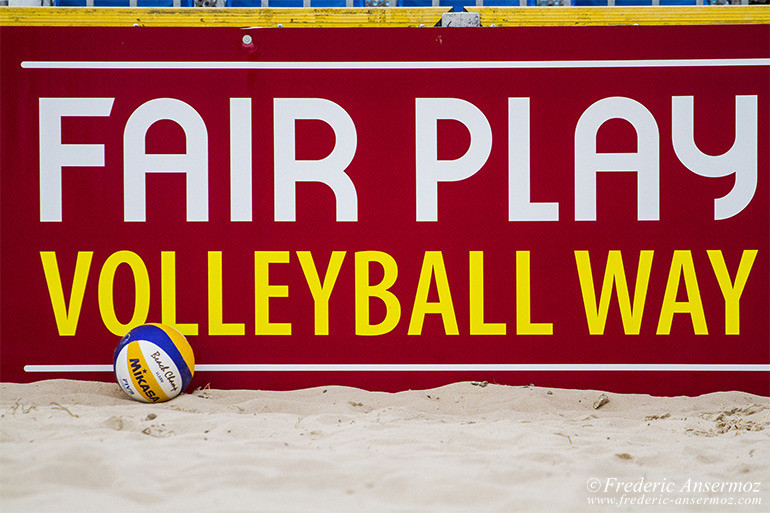 The presented events: Gstaad FIVB Beach Volley World Tour 2014, and, CEV Beach Volleyball Satellite Lausanne.
The 2014 World Tour began at the Fuzhou Open in China in April and concludes at the Durban Open in South Africa in December.
The FIVB Beach Volleyball World Tour – Grand Slam Gstaad, in Switzerland, is one of the most prestigious beach volley event in the country.
The competition is part of the (Fédération Internationale de Volley Ball) FIVB Beach Volleyball World Tour tournament.
2014 was a record-breaking in the beach volleyball calendar, with $10.2m in prize money, shared over 10 Grand Slams, an inaugural FIVB Grand Slam Final and 11 Open tournaments.
The 2014 FIVB Gstaad Grand Slam was the fifth Grand Slam of the season, and the fourth in a string of seven FIVB Grand Slams that have been held over an eight-week window, worldwide.
At the time of the 2014 FIVB World Tour event, Switzerland had hosted a total of 29 FIVB World Tour events (14 men, 15 women) with all of them being held in Gstaad.
Gstaad is a picturesque village in the German-speaking part of the Canton of Bern in Switzerland, right in the middle of the majestic Swiss Alps.
With an altitude of 1,050 metres (3,445 feet) above sea level, Gstaad is the highest altitude venue for a FIVB World Tour event.
The 25th edition of the CEV Beach Volleyball Satellite Lausanne (2014), allowed many spectators to attend high level games on the Place de la Navigation in Lausanne.
Unfortunately, the tournament won't take place for three years now.
You can learn more about Sport Photography, and eventually how to photograph Beach Volleyball, thanks to videos.
Here are two videos I have selected.
Youtube video: How to Photograph Volleyball || Stadium Strobes, from CP+D3

Youtube video: 10 Sports Photography Tips, from Vincent Martinez Photography

Beach volleyball players on photographs:
– CEV Beach Volleyball Satellite Lausanne:
Switzerland: Sheba Chevallier and Alexei Strasser
Turkey: Selçuk Sekerci and Murat Giginoglu
Germany: Sebastian Fuchs and Thomas Kaczmarek
Germany: Tim Holler and Jonas Schröder
Poland: Maciej Kosiak and Maciej Rudol
Austria: Peter Eglseer and Felix Koraimann
Germany: Philipp Arne Bergmann and Finn Dittelbach
Italia: Matteo Cecchini and Matteo Martino
– Gstaad FIVB Beach Volley World Tour 2014, women:
Switzerland: Nadine Zumkehr and Joana Heidrich
Poland: Monika Brzostek and Kinga Kolosinska
Netherlands: Marleen van Iersel and Madelein Meppelink
Switzerland: Tanja Huberli and Tanja Gorincanec
USA: Kerri Walsh and April Ross
Greece: Vasiliki Arvaniti and Maria Tsiartsiani
– Gstaad FIVB Beach Volley World Tour 2014, men
USA: Todd Rogers and Theodore Brunner
Qatar: Tiago De J Santos and Jefferson Santos Pereira