Hi photographers and urban explorers,
Here is another abandoned building in Montreal, The incinerator Dickson. It was built in 1954, to replace the old incinerators where horses were used to harvest waste. In those times, it was the most modern in North America.
In the 1920s, the city of Montreal had problems with dumps that were giving off strong emanations, sources of diseases etc. So at the end of the decade (1929-31), Montreal decided to build its first two large scale incinerators. The first incinerator was located at the corner of Papineau and des Carrières Street (Incinérateur Carrières), and a second incinerator on Atwater Street (since demolished).
To accommodate for the waste produced by the rapidly expanding population of Montreal, in 1954, two more incinerators were built. One on Mount Royal Avenue (since demolished), and the second one was the Dickson incinerator, on Dickson Street.
They were both operational by the following year, transforming massive amount of garbage into billowing clouds of black smoke that would rise from the high chimneys. The heat emitted by the combustion was used to heat municipal buildings nearby.
For over two decades, The Dickson Incinerator Of Montreal was actively burning waste and was the source of a large pollution and air degradation in the area. In November 1971, in a article, from The Gazette newspaper, Dr. Goldbloom addressed the issue of pollution caused by incinerators, and especially, The Dickson Incinerator.
The Dickson Incinerator Of Montreal, and the Mount Royal Incinerator as well, ceased their activities in 1978, when a new type of incinerator was built: The Incinérateur 3 was constructed where Incinérateur des Carrières was standing.
Some parts of the building are still used for storage by Montreal's Sanitation and Transportation departments. The abandoned parts of the building are now a playground for urban explorers, photographers, graffiti artists, pigeons and other critters.
Here are some pictures taken into the Dickson Incinerator of Montreal, that I explored with my two urban explorer and photographer friends, Fabienne and Jarold.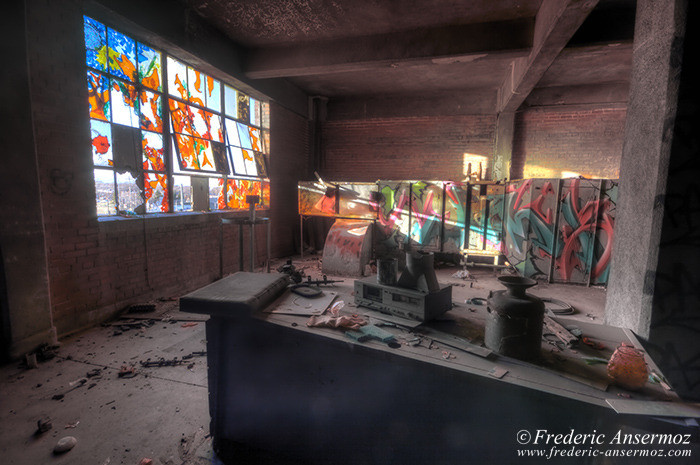 IMPORTANT NOTE:
Urban exploration can be dangerous and illegal, so please be careful if you visit those abandoned places. We do not encourage you to explore them, but if you do, please respect those old places.
You enter at your own risks!